It all started with the credit card.
The business model for acquirers and payment service providers (PSPs) used to be simple. Their main goal was to enable merchants to accept credit cards. To do this, the list of requirements was pretty short:
Onboard merchants using their respective banking branches;
Offer POS terminals connected to a simple gateway, that was capable of sending authorization orders to the credit card schemes;
Support a clearing/settlement system, that would deduct any refunds, disputes, fees, or financial reserves to the final amounts to be transferred to the merchants' bank accounts.
Merchants received the transaction statements through postal mail by the end of the month and very few additional interactions with the financial institutions occurred afterward.
Then the Internet came along.
With the advent of e-commerce, new ways of shopping turned into new requirements for acquirers:
Online gateways;
Connections to anti-fraud providers, to account for the excess risk involved in card-not-present environments;
Clearing/settlement engines adapted to new pricing structures;
Web-based interfaces to support the onboarding of merchants online;
Methods to communicate transaction authorizations in real-time, which allowed merchants to ship orders in a timely manner;
Transaction statements sent through email.
Soon enough, a new channel was added to the mix — mobile — and with it the demands of seamless checkout experiences. Payment gateways had to adapt as merchants needed new interfaces to control their payments activity, with detailed transaction information, settlements, and analytics.
Alternative Payment Methods (APMs) challenged the credit card dominance in the e-commerce space and called for new integrations with radically different transaction flows. APMs also brought new pricing structures and settlement schedules, which demanded changes in the clearing/settlement engines.
In 2015, new regulation was approved, which enforced profound technical changes on acquirers' infrastructure. SCA demanded 2-Factor Authentication, with implications on transaction flows and GDPR brought significant restrictions on the way acquirers use personal data, which eventually pushed for encryption.
At the same time, new business models like online marketplaces pushed for automated onboarding flows, built on top of APIs. As innovation cycles became shorter, new fintech challengers took advantage of this fact by building a more flexible approach to systems' architecture, which enabled partnerships with other companies to quickly roll out new offers and better adapt to market changes.
Nowadays microservices rule and software abides.
The constant infrastructure adaptations throughout the years have built significant technical debt in incumbent acquirers, and the excessive system coupling has led to the inability to deploy new services quickly.
Challengers are rising above incumbents' legacy systems to design scalable, interoperable ones, that allow the deployment of products at a much faster pace. The innovations brought to the table by the fintech competitors have been quick to couple consumers' needs with more adaptable systems.
That is where Switch comes in. A team of engineers built a Payment Platform as a Service, to help acquirers decouple their systems by connecting them into modular, abstract, and flexible platform components designed to achieve the following goals:
Support all major consumer-facing environments for secure payment credential collection;
Connect acquirers to the entire payments value chain, from APMs to acquirer processors, PSPs, gateways, and risk providers;
Offer a future-proof and white-labeled Dashboard solution, APIs, and modern documentation;
Provide a flexible clearing/settlement engine, that supports multi-method processing;
Establish API-based Merchant and Terminal APIs for orchestration between all stakeholders involved in a POS operation.
With the advent of modern protocols to support APIs (e.g. REST), new sets of methods were created to perform single/bi-directional communication flows, and webhooks become the perfect means to publish events to designated URLs. In the payments industry, this technology can apply not only to real-time communication of processing events to the entire value chain (e.g. acquirers, merchants, PSPs), but also every action occurring in the payment application (e.g. merchant onboarding, terminal assignment, risk, dispute, settlement).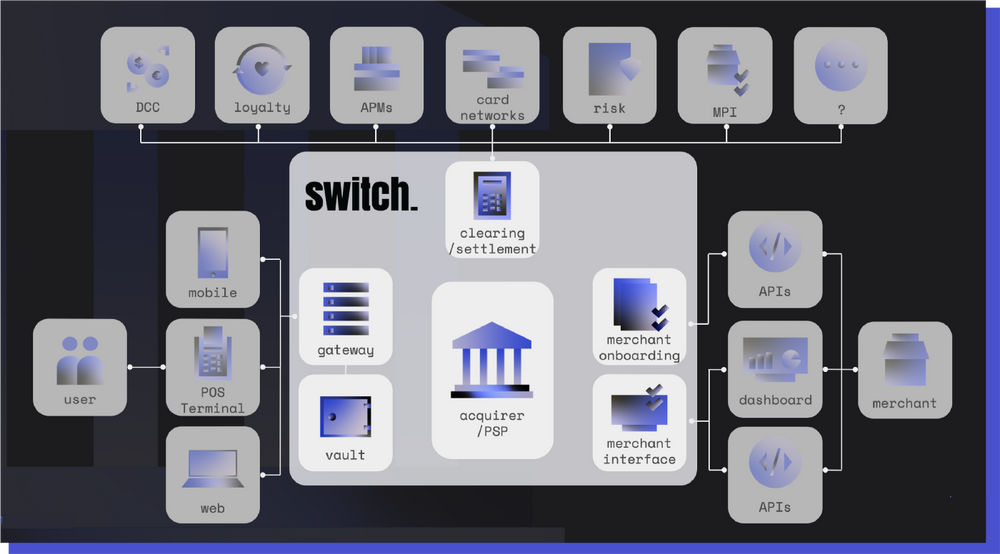 Switch: The Payments Platform as a Service.

Switch's microservices architecture allows exposure to our applications independently through different APIs on a modular basis. Besides, acquirers can consume specific applications on an à la carte model, allowing them to capitalize on existing legacy systems and prepare for the challenges ahead.

None of us know what the future holds, but one thing we can be sure of: in an ever-evolving industry, the only way to survive is to become adaptable.